Robert A. Burnett (Left)
President and Chief Executive Officer.
E.T. Meredith III (Right)
Chairman..
Meredith Corporation Admits
PENTHOUSE GIVES US THE BUSINESS
........
People might think
that the printers of Penthouse
would be outcasts and sleaze Pariahs.
It just isn't so.
We're successful, white businessmen,
and we're people too!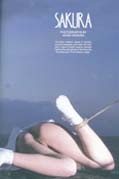 Our rotogravure presses give a glossy facade of respectability to Penthouse, one of the most disgusting products of mainstream publishing.
All torture photos from
Penthouse Dec. l985,
printed by Meredith Corporation.
"No corporation should appoint itself as a conscience for society." --Donald L. Arnold, Vice President Corporate Relations, Meredith Corporation, June, l985
If we put our consciences on hold and wash our hands of responsibility, we trust you'll understand. We make a bundle from printing Penthouse. Please excuse that we don't mention them in our corporate advertisng.

But just because we print Penthouse
doesn't mean you have to buy it.
No, you won't find a newsstand like this anywhere. It's one we created
to illustrate the wide variety of Meredith magazines and books.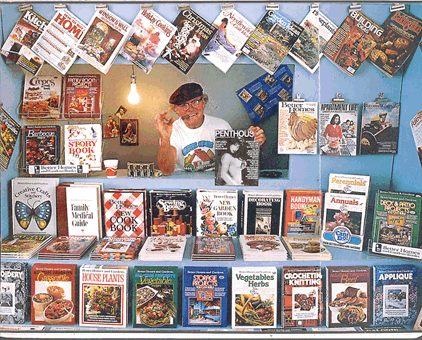 PLUS FROM PENTHOUSE
IN THE SAME ISSUE
TORTURING WOMEN: A POLITICAL NIGHTMARE
THE HOW TO MANUAL FOR RECREATIONAL KILLERS
SPECIAL REPORT: WHAT TURNS MEN ON
'I KILLED 360 PEOPLE!'
OUR MOST CHILLING INTERVIEW EVER
[Text from Penthouse printed with the photos above.]
The haike moment: waves of emotion bursts of possibility, sun-bright and night- dark, a sea of mystery surging, over-spilling from a clear glimpse of the thing told, the thing seen. From pictures, magic.
Sakura is the word for the cherry blossom. "From my childhood", explains Akira Ishigaki, whose eye captured these pictures, "I recall the resemblance between the petals of the cherry blossom and a woman's body. In the spring of my twelve years, I caressed the petals with my fingers, kissed them gently with my lips."
By hana-no kage is meant the blossoms' shadow. "I had reached adolescence," Ishigaki says, "and had discovered that the woman both belong to the world of shadows."
Two hundred years ago and more, Issa, best loved of haiku poets, dwelt among the powers of bloom and darkling shadows.
In their shadowy oblation, the woman and the blossom conquer even the damyo the great lord. "A damyo!" Issa saw. "And who makes him get off his horse? Cherry blossoms do."
"Hold a woman at the end of a gun and you can't tell how she'll react. Sometimes they cry. Sometimes it's quite the opposite. They want to make love to you." --Penthouse, February, l985
Meredith Corporation printed the issue of Penthouse that included the photos and text reprinted on this page.
We reproduced them in our leaflet and distributed five thousand copies of it on the Iowa streets and at their headquarters in Iowa in 1985.
The evening of their annual stockholder's conference, while we were protesting on the cold streets of Iowa, Meredith flew in Gloria Steinem as their keynote speaker. Steinhem took them up on their invite while we called for a boycott against Meredith.
Meredith ignored our protests and pleas for corporate responsibility for years. For other reasons, the corporation allegedly divested itself of Penthouse in 1990." We still boycott their company and we continue to urge others to do so as well.
We've recently received an email from Meredith asking us to remove this page. Guess they never figured anyone would have publishing rights except them and Penthouse, eh? While we are at it, please note this is now a historical document. :-)
Meredith Corporation
INTEGRITY, INDUSTRY AND IMAGINATION
Locust at l7th Street
Des Moines, Iowa 50336
Meredith Corporation printed this issue of Penthouse.
Won't you write them and let them know what you think?
A Public Service Message by A.C.L.U.
Back to the ACLU Homepage