Heartbreak:
The Political Memoir of a Feminist Militant
by Andrea Dworkin.
NY: Basic Books. 2002. ISBN 0-465-01753-3.
Reviewed by Beth Ribet

Understanding why someone becomes a radical feminist is important. We live in societies which punish girls and women for defiance, for plain speaking, for being writers, for refusing to tolerate violence, and for existing. In this context, it might seem like radicalism must be a foregone conclusion. Simultaneously, it can feel like a near impossibility, for certainly such a life-course will be predicated on vulnerability to extremes of backlash and grief. Heartbreak: The Political Memoir of a Feminist Militant illustrates both the necessity and the costs of a life-long commitment to opposing the oppression of girls and women at its roots.

The narrative begins in the author's childhood. She explores what it means to be a girl in a society in which adults routinely dominate and exploit children. The hazards are many: cruel or parasitic teachers, the lies a repressive society tells its youngest members, the everyday brutalities of gender socialization, the realities of bigotry, anti-Semitism and sadism. Also within her experience are the elements of survival: the inspirations of words and music, the discovery of the ability to resist, the cherished need for honesty and integrity, and the rare adults who do not patronize or humiliate.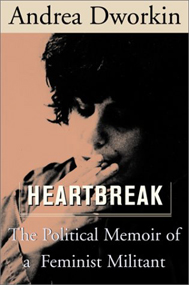 Andrea Dworkin rhapsodizes about the joys of the local bookstore and rails in grand spirit against a particularly vicious schoolteacher. For those who are long-time or enthusiastic readers of her work, connecting with the author's childhood is like receiving a gift. It's powerful to know that she made a commitment to write the truth in junior high school, and has kept it since.

Heartbreak is the story of a woman who has had to face misogyny relentlessly. Her previous works have established her as one of the most influential and powerful writers on pornography and violence. Her memoir is painfully clear in describing her own experiences of battery and prostitution, and equally so in revealing insights and grief born from receiving testimony from other girls and women. Few writers are so skillful and courageous in confronting the particulars and extremes of misogyny and collusion with oppression within the left, within middle-class feminist organizations, and within artists' and writers' circles. She conveys the loneliness and betrayal that accompanies political consciousness. In a description of the incident which finally ended her participation in the political left, she writes of the hateful comments male activists make in reveling in the use of women and girls in pornography: "What the men said was so vile that I was really wounded by it. I seemed unable to learn the lesson that pornography trumped political principle and honor." (p. 130) In memory and story, she takes her readers through level upon level of political awareness, horror, and determination to keep writing. In the process, she continues to be vulnerable, continually passionate about knowledge and justice and creative expression, and bluntly furious at atrocity and violation.

This book will be hard for anyone who is not already strongly aware of how oppression works and what it takes to really fight it. For those who do have this awareness, this book is pure oxygen. Though some may not read it this way, Heartbreak is hopeful-- grounded in the belief that writing matters, that it is possible and worthwhile to envision an end to patriarchal abuses, that the truth is something we can bear to know and to act on.