SEX & VIOLENCE
AND DESTRUCTION OF ALBUMS
AT ODYSSEY RECORDS
BY PREYING MANTIS BRIGADE
Santa Cruz, California 1979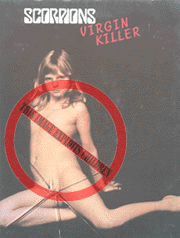 My first individual Preying Mantis action against media violence was in the mid 1970s when I entered a major chain store in Dallas Texas. Originally, I intended to buy a record. But when I saw this Virgin Killer album cover by the Scorpions I was so angry that I destroyed about 20 copies of it. I didn't know if the film monitors were on at the time and, even though I was fearful of getting arrested, I didn't much care.
I looked around. The cashier was standing across the store and on the other side of the counter. I took out my buck knife and while appearing to sift through various albums, carefully carved Xes into the cover and through to the record so there was no way they could be sold or used. I then quickly and quietly left the store--never to return to buy anything at that store ever again--without buying the record I had come after in the first place. --Nikki Craft
The first Preying Mantis Women's Brigade Action was in September 1979 in Santa Cruz, California. Our leaflet is reprinted below. It's been twenty years since it was written and there was little concern in mainstream culture, or anywhere, about the violence, then directed predominately at women. Since that time the crime stats have increased and women are now equally participating and responsible for the harms of violent media. At the time this leaftlet was written I naively thought we were going to stop violence against women. I now know that was stupid. But over the years I have wondered if the society had more noticed our early anti-violence in the media work if the escalation that has taken place from then to Littleton, Colorado might have been avoided. --Nikki Craft
EVERY 3 MINUTES A WOMAN IS BEATEN.
EVERY 5 MINUTES A WOMAN IS RAPED.
EVERY 10 MINUTES A LITTLE GIRL IS MOLESTED.
The recent trend of the depiction of sexual violence as a means of producing higher profits began around 1974 when a major New York department store window displayed a manikin of a woman's body stuffed in a trash can. Beside her was a sign that read I'D KILL FOR THESE SHOES. Marketing and advertising men have discovered that SEX AND VIOLENCE sells in America.
Record companies are now relying heavily on these techniques to move their merchandise. While this sexual and violent degradation is not aimed solely against women, most of it serves to portray women as non-human objects existing solely to serve men's violent fantasies. These albums promote and justify an attitude that results in the victimization of women.
Upon entering record stores we are barraged with a fantasy atmosphere of loud music, colors, and large displays of "Sex Pistols" and women being gagged, tied, chained, and whipped. As we flip through these isles of seemingly endless images of romanticized violence, the message inevitably sinks in.
It is when we leave these stores and return to real life that the violence is not so surreal and romantic. In reality violence is brutal and it hurts -- it hurts women. Every day women are maimed, raped and murdered by men --- dropped out of cars into gullies; tossed over cliffs into the ocean; stuffed into dumpsters -- I'D KILL FOR THESE SHOES -- Think about it.
Because of this women are afraid: afraid to walk on the street at night; afraid,to have a window open; afraid to be alone --- Think about it. Afraid to talk to strangers; afraid to hitchhike; afraid to come into an empty house -- afraid ... afraid. afraid...afraid. Afraid because the chance of becoming a victim of sexual terrorism is increasing at a frightening rate.
While record companies ruthlessly rake in profits, they repeatedly deny their responsibility for perpetuating this violence. We do, however, hold them responsible for maintaining an environment in which women must live in constant fear --- an environment that trivializes and even encourages this violence against women -- against us.
We began this project as a proposed boycott of select albums that encouraged violence against women. As we browsed the stores we became so angered and sickened; so overwhelmed by what we saw that after much discussion we have concluded that our goal must be the destruction of these albums. We encourage other women across the country to carefully explore this as a real possibility.
Our direct action in Santa Cruz will be against Odyssey Records and other local record conglomerates as well as the individual performers who all must take responsibility. Our goal will be the destruction of all Rolling Stone, Cheap Tricks, and Scorpion albums that can be located in these stores. We know there are numerous albums that deserve our attention --- we view these to be particularly representative of the sexual violence that has permeated our society and our lives daily.
We chose the Stones because of their general anti-woman attitudes;. specifically THEIR BILLBOARD OF A WOMAN TIED AND BEATEN WITH THE WORDS: "I'M BLACK AND BLUE BY THE ROLLING STONES AND I LOVE IT".
Cheap Tricks new release "Dream Police" (Epic Records) was included because THE GROUP MEMBERS POSED FOR THE COVER WITH A CHAIN SAW AND GUNS STANDING OVER A MUTILATED WOMAN MANIKIN.
We chose the rock group Scorpion because of THEIR DESPICABLE RELEASE ENTITLED "VIRGIN KILLERS" WITH A 12-YEAR OLD NUDE POSED IN A SEDUCTIVE STANCE WITH BROKEN GLASS JABBED INTO HER VAGINA.
We ask women everywhere to join us in the boycott and destruction of these and other sexually violent albums.
Our intent is to stop all violence against women. We take this action because we refuse to be the victims of violence. We choose these acts of civil disobedience as a way of fighting for our own self-respect as women. We have found that to do otherwise is dangerous for us as human beings.
Back to Nikki Craft's Homepage